Our Story
With us, what you see is what you get.
Nova Tissue is an independent UK manufacturer based in the North West of England with more than 30 years' experience in paper converting (which is a fancy name for making toilet roll and kitchen roll!)
We specialise in affordable, quality, eco-friendly products, offering ultimate convenience and reliability to domestic and commercial customers. Our experience and understanding of the market allows us to deliver best quality and value and we take great care throughout our manufacturing process to ensure the highest standards, using pure virgin fibre in our toilet tissue products for supreme softness and specially bonding our kitchen towel products for extra thickness and absorbency.
We take sustainability and our environmental impact seriously: Our raw materials are all sustainably and locally sourced and our 'Soft on Nature' range leads in the way in plastic-free packaging.
You might have seen us in the national news and on daytime TV back in 2020 when we stepped in to help calm down the toilet roll stockpiling hysteria at the onset of the Covid-19 pandemic – see more here.
Wholesale customer? From private label to worldwide distribution, we've got your back. Find out more.
"delivering the very best value TOILET ROLL AND KITCHEN ROLL. excellent everyday products that don't cost the earth… literally!

"
Khurram Iqbal
Managing Director
After completing a law degree, Khurram joined his parents' business, Rose Tissues, to enable them to start winding down to retirement. More than 20 years later he has now taken over the ropes under the new company Nova Tissue. Khurram is now overseeing the team of 50 staff and 35,000 sq ft plant, and is the main point of contact for our customers. He works to maintain a family business ethos as we grow
Martyn Preston
Head Engineer
With over 25 years' experience in tissue converting, Martyn is responsible for the maintenance of all of our production facilities. Working alongside his Electrical and Mechanical Engineering Team, he develops strategies to improve overall the reliability, efficiency and safety of our plant, personnel and production processes.
Imran Khan
Warehouse Manager
Started working for us in 1997 as a Production Assistant and is now Warehouse Manager. Commonly referred to as "little Imee" due to his short stature, he is a vital part of our supply chain process. Oversees the safe and speedy receipt and dispatch of goods.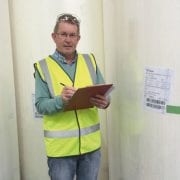 Ray Brown
Health & Safety Manager
Ray works to establish procedures and quality standards across the business; from the quality of the finished products to Health & Safety standards. He is a real catalyst for change and improvement in performance and quality.